« November 2007 | Main | February 2008 »
Dec 29, 2007
Happy -- Holidays, Christmas, New Year, Anniversary!
Warning: Long, catch-up post follows...
Nope...not dead. I apologize to anyone who has been checking my blog only to find it not updated for these past 3 weeks. It's just that life has been crazy busy -- in a good way -- and I decided that when I began blogging again I wouldn't let it make me feel guilty if I went extended periods of time without updating. So, with no guilty feelings to motivate me, I've just been loving life. But, now I want to share all that's been going on with you (OK, well, at least some of it)!
First, Happy Holidays to everyone. This is a time of year that I've always loved. Raised a Christian, I have always celebrated Christmas. A long time ago, I gave up on the idea of JC as being the only begotten son of God and then not too long ago I acknowledged that I didn't even buy the whole "single god" theory. Still, I celebrate Christmas. Which is to say I (we) put up a tree (a real one for the past 3 years), exchange presents, overeat, watch sports on television and generally enjoy quiet family time. After that, of course, comes the New Year. No major celebrations here. We're not unlike this reporter. And, of course, for those of you who are Christians, Merry Christmas! As a side note to this whole religion thing -- you might find it amusing that I now attend an Episcopal church service every Sunday. My MIL is Episcopalian and we take her (and then go out to brunch afterward).
Our trip to Sint Maarten was fabulous! You'll just have to take my word that this picture is of me (trying to take a photo underwater -- none of which turned out wonderfully, I must add). The other picture is a photo of the
resort where we stayed while we were down there. It was really lovely trip; it started off with a stop in South Carolina to visit MIL's younger sister who has heart problems. It was wonderful to see the two of them together; it's clear that they share a loving sister bond. They hadn't seen each other is several years, given everyone's health and we were so thrilled to be able to make this happen. The resort was nice,
the people were friendly and the weather was amazing. Of course, the fact that we left just as a blizzard descended upon the Detroit area may have colored our appreciation of the 80 degree temps and clear skies a bit... Do we look like a couple of drowned rats in this final photo? As always, you can click on the photos to enlarge them (and thereby see my new bathing suit, which is *much* cuter on the model than it is on me...).
When we returned home (1 AM this past Saturday before Christmas), we put things into high gear for our Christmas preparations. As my Girl said: "It [was] cruch time for elves". Indeed. We got holiday cards out late (apologies if you didn't get one -- it was not an intentional slight) and then only to immediate family, darn it. We scurried around trying to do Christmas shopping for each other, and we put up a tree. Now the tree is a bit of a story (I will post a photo of it as soon as I can). Remember last year? Well, in case you don't suffice it to say that we put up a large, 10 foot tree and it fell over in the middle of the night, causing us to have to completely re-decorate it. This year, we thought, "you
know, we have these beautiful high vaulted ceilings; we really should put in a tree that fits the room." (Note to self: Mistake. Do not repeat this mistake next year.) Trees look larger indoors than they do out-of-doors, especially when they're in a tree farm surrounded by other large trees. We honestly did not realize that we would have to cut off a foot of the top of the tree in order to have it fit in our 13 foot high ceiling (the low part -- where the vault meets the wall). We also did not realize that the base was likely the culprit in our tree mishap last year, and probably not our poor wrongly-accused pussycat, Buster. Without dragging you through all the agonizing details, let me just say that 1,600 lights, 6 nails in the wall, and three fishing line supports anchored thereto later we finally quit with the tree at 2:30 AM the day before Christmas.
Christmas day itself was great, as it almost always is. The only downer part of it for me was the missing of my mom. I spent last Christmas Day with her in the hospital. I think I knew then that she wouldn't live to see this Christmas. I'd give anything for another conversation with her. And funny thing is...there's nothing I could say to her that I didn't say while she was living. I just miss the conversation. ::sigh::
Although Christmas is never all about the gift-getting for me (though it is often about the gift-giving), I would be lying if I didn't admit to being absolutely thrilled to get a new PDA for Christmas from my sweetheart. She got me this HP IPAQ pocket PC. My PDA (an old Palm Pilot which I lived by) died earlier this year and I've been lost without it.
This brings us to today. Today is my Girl's and my 2nd wedding anniversary. How did I ever get so lucky as to find a woman who loves me as much as she does? I must have been very, very good in a former life. We agreed to not exchange gifts on our anniversary, but instead to simply celebrate it each year (part of which involves watching the tape of our actual wedding day...). Still, I can never let this day go by without giving her cards and flowers. It's just not in my nature. I sent her this bouquet.
Finally, please accept from me my sincere wish for a peaceful, loving 2008 to all of you.
09:01 AM in Family, Life, Travel, Wedding Planning | Permalink | Comments (7) | TrackBack
Dec 08, 2007
Middle of Hanukkah -- a late Christmas tree
We now have our house all decorated for the holidays (we have no religious paraphernalia (except a random angel ornament) in our decorations. This is a completely secular holiday to us). My Girl has a tremendous stash of holiday decorations -- for nearly every holiday. So, we have Halloween stuff, and Thanksgiving stuff and Christmas stuff (and other holidays as well, but you get the point ...). She doesn't mind (too terribly) that I'm a lazy butt and hate to cart all this stuff out and then put it all away again only to cart out the next holiday's stuff. But, I love her so and it's really not such a chore. And, because it's her thing, she does most of the work. Today we put out all the outside (ginormous) wreaths and put colored lights on the 12' pine that stands just outside our master bath window (all the rest are way too big to attempt to decorate). We even have two small fake trees lining the entrance on our porch.
But, despite all the decorations, inside and out, we have no Christmas tree. Moreover, we won't get a Christmas tree this year until the Saturday before Christmas. Therefore, it still just doesn't feel like the Christmas season to me yet (notwithstanding the 2nd week in a row of temperatures below freezing). Now, one might reasonably ask why we are waiting so late to get a tree.
Well, that's the point of this post. We are going to St. Maarten one week from tomorrow and will spend a full week basking in 80 degree temperatures, swimming in the ocean, golfing in the sunshine and generally relaxing. I am so excited. I've lost 20+ pounds, so I rewarded myself by buying a new swim suit. OK, so it's still one of those lycra, hold-in-your-tummy things, but hey. I even bought the pareo.
We will be staying at the Royal Palm Beach resort in Simpson Bay (the Dutch side of Sint Maarten). It may not feel like Christmas yet, but I'm coping ...
06:36 PM in Family, Travel | Permalink | Comments (6) | TrackBack
Dec 06, 2007
To think I'd let my daughters fly on this airline...
Spirit Airlines claims this ad was an innocent mistake. I might (but probably not) believe them if they could identify the island chain by name and exact location. By the way, I had to Google the term MILF to find out what it's slang for. It's incredibly filthy and underscores - yet again - the debasement of women by some men in our culture. I won't even provide a link. Honestly, it saddens me beyond words. Let's just say we shan't be flying Spirit Airlines again, no matter how low their fares.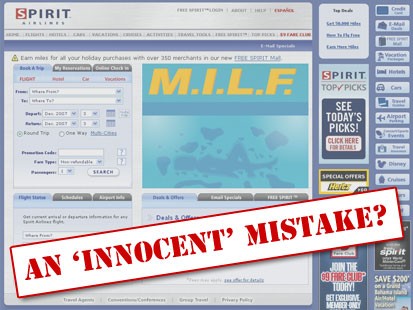 07:46 AM in Feminism | Permalink | Comments (0) | TrackBack
Dec 05, 2007
Which way to go?
I recently represented a young (18) trans-woman who wished to change her first name to something that seemed to her to be more feminine. The judge initially denied her request (asserting that it seemed to him she was changing it for fraudulent reasons - the only grounds the law allowed him to deny her request). Then, she retained me and I was successful in getting him to change his ruling. One question he asked me was "Counselor, shouldn't we wait with this name change until your client has completed transition?" (I successfully argued NO).
In the article copied below the fold, is a story about a man who transitioned to become, legally, female and has now been denied permission to transition back again to male, for purposes of marriage. [UPDATE: I just got the full text of the opinion. You can read it here).
I understand this article correctly, Steph was successful in transitioning (from male to female) the first time, including getting his birth certificate amended. Now, he needs to transition from female to male, legally. As I'm sure many of our FTM brothers already know, this is a bit more difficult. It is, of course, complicated by the fact that he (apparently) already (still?) has a penis, so it will be difficult for him to show that he's had sexual reassignment surgery. It seems to me that he has two options: 1) Convince his judge that he has successfully re-transitioned (I'd like to understand his lawyer's approach of asserting a "mistake"; that seems destined to fail, to me) or 2) Getting married in either Ohio, Texas, Kansas, or Florida (whichever state does not have a residency requirement). No matter what he does or what a Wisconsin birth certificate says, he's still legally male in those states. Just ask J'Noel Gardiner. See the following footnote in this post: In re Estate of Gardiner, 273 Kan. 191 (2002) (Wife received no share of estate upon death of husband as court said she was a man in the eyes of the law, despite sexual reassignment surgery, birth certificate noting her as female [issued in Wisconsin], and having satisfied all other prerequisites to marriage).
I wish this person luck. I wish we didn't have a system that confined people to one of two sexes -- and then doled out benefits based upon which sex that system determines you to be.
Chippewa Herald - Chippewa Falls,WI,USA

Court refuses request to change gender on birth certificate again

By ROBERT IMRIE
Tuesday, December 4, 2007 4:45 PM CST

WAUSAU, Wis. - A Green Bay man who amended his birth certificate to change his sex to female failed Tuesday in efforts to have it revised again to identify him as male.

Stephanie Calewarts asked for the latest change after marrying a woman last year. Brown County revoked their marriage license because Calewarts' birth certificate listed him as female. Same-sex marriages are banned in Wisconsin.

Calewarts contended that a judge's 2000 order changing his birth certificate to female was an error based on mistakes and misunderstandings. Calewarts said he had some surgery done for health reasons, not to change his sex.

But the 3rd District Court of Appeals ruled Tuesday that the time for Calewarts to appeal or challenge Brown County Circuit Judge J.D. McKay's decision had long passed.

McKay properly rejected the petition Calewarts filed in October 2006 requesting that his birth certificate list him as male, the three-judge panel said.

"Oh God, no," Calewarts said when told of the appeals court decision. "I am scared to death right now. I am not going to see my wife. She is the only thing that means anything to me. I am a nobody right now."

Calewarts vowed to appeal.

"If I got to take it to the federal Supreme Court, I will," Calewarts said in a telephone interview from his Green Bay home.

His attorney, Megan Carollo, did not immediately return a telephone message Tuesday.

According to court records, Calewarts was born Stephen T. Calewarts on Oct. 28, 1949, in Kenosha. Calewarts had "ambiguous genitalia" _tissue for both a penis and a vaginal opening _ because of birth defects. His birth certificate identified him as male.

Calewarts had surgery in July 1999 to correct some medical problems. It included the removal of his testicles, court records said.

Afterward, he sought a new birth certificate changing his first name to Stephanie in honor of his late grandmother, who raised him and called him that as a child, court records said.

Calewarts said he mostly goes by Steph, which he claims could be a name for either a male or female.

Following what a doctor described as gender reassignment surgery in Montreal in 2000, Calewarts had his birth certificate amended to list him as female, court records said.

Calewarts said Tuesday he pursued that paperwork only because the Canadian doctor advised him he had to do it.

He didn't learn of the ramifications until after he married a woman from New Zealand in September 2006 and their marriage license was revoked.

Because the marriage was null, the woman couldn't get a visa to stay in the United States, Calewarts said.

In an effort to change the birth certificate again, Calewarts submitted an affidavit from a Green Bay doctor who concluded that while he had some female traits, he was predominantly male with characteristics including a prostate. Calewarts' "surgical reconstruction" was done for health reasons, the doctor said.

"I thought I was going to have two birth certificates. One of each. Big deal. I was born with two genders," Calewarts said Tuesday. "I can't have sexual intercourse because nothing works."

He is a male, he said. He dresses like a man and speaks in a deep voice. His driver's license lists him as male.

"I can put them under the table when it comes to drinking like a guy," he joked.

Calewarts, who owns a Green Bay demolition and renovation company called Tool Belt Divas, said he has already spent $2,000 trying to fix his birth certificate.

"I have to get this changed," he said.

The appeals court suggested Calewarts petition McKay again and argue that "extraordinary circumstances" dictate that the birth certificate be changed.

A Milwaukee judge married a transsexual and a woman last March after finding there was no legal reason to prevent it. The judge determined the transsexual remained a man even though he lived as a female.
08:45 AM in Transgender | Permalink | Comments (2) | TrackBack